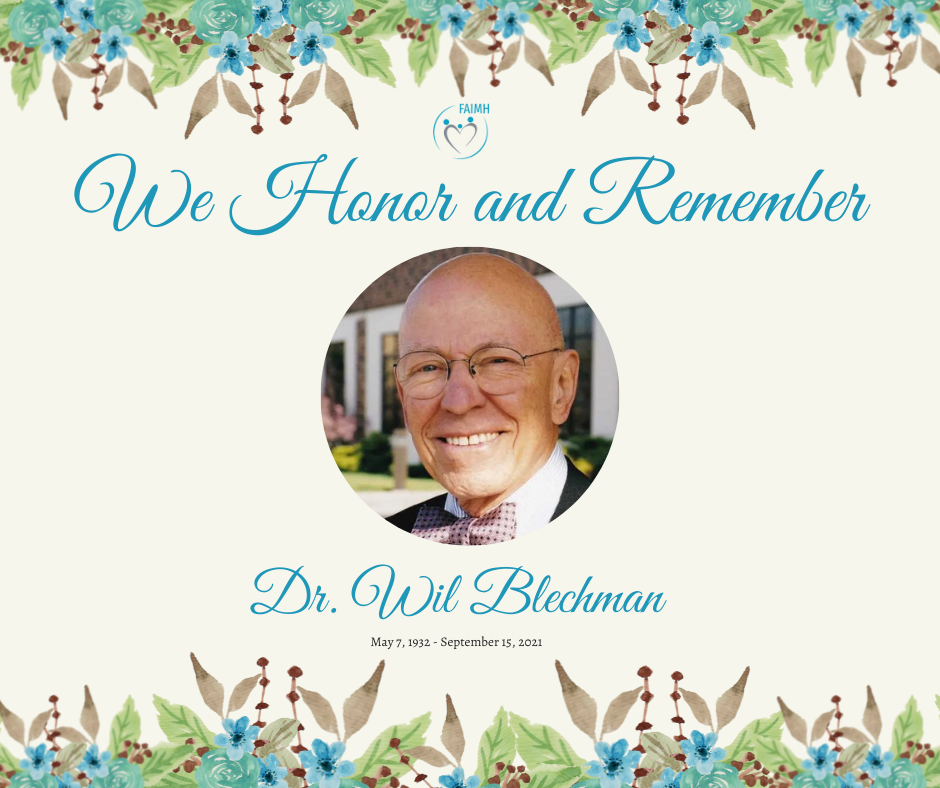 We are deeply saddened by the passing of one of our strongest champions and leaders, Dr. Wil Blechman. For many of us professionals, he was a constant inspiration in our work educating, supporting and advocating on behalf of the youngest Floridians and the important adults in their lives--both parents and professionals. For FAIMH, he was a pillar of leadership and service, and a huge part of why we exist today.
FAIMH will forever be connected to Dr. Blechman's legacy of care for young children and families. Wil served as our Founding President of FAIMH when we incorporated in 2000, and continued to serve as a member of Committees, Workgroups and his local Miami Chapter. He helped to ensure that Florida had an Association for Infant Mental Health, and was there supporting every turn we took, every accomplishment FAIMH achieved, including the latest launch of FAIMH Training Academy in 2019, which he let us know that he was so proud of because "being able to provide trainings like this was one of the dreams for the future when FAIMH was created."
In 2019, FAIMH created the Dr. Wil Blechman President's Award for leadership and vision in advancing and advocating for the wellbeing of Florida's young children and families. This award means a lot to FAIMH, and we look forward to using this award each year moving forward as a way to remember and honor Dr. Blechman even though he is no longer in the room celebrating with us.
Of course, Dr. Blechman has had a much broader impact than just infant and early childhood mental health in Florida. He was a respected rheumatologist in Miami for more than 30 years, and after his retirement in 1991, he dedicated his life to the cause that we all care deeply about--young children and families. He served Kiwanis for nearly 60 years, first rising through the ranks of his local Club, becoming the Governor of Kiwanis Florida, then becoming a Board Member, and later, President of Kiwanis International. All through his growing impact on children and families globally, Dr. Blechman kept his focus on Florida, serving on the Board of The Children's Forum in Tallahassee, The Children's Trust in Miami-Dade, and the United Way of Miami-Dade Center for Excellence in Early Education, to name a few.
To join us in remembering the incredible impact of our dear Wil Blechman, read his obituary, and one of our favorite articles from 2018 when he won the Chiles Advocacy Award during Florida Children's Week.
A Celebration of Life will be held at later date, and FAIMH will keep you updated.
Want to share your condolences or stories you may have of Dr. Wil with his family? We will compile any notes that you would like to share about Dr. Blechman and his impact on you with his wife, Rachel. Just email us with your note that would like us to share with his wife and family. Please send by next Friday Sept. 24th.
Take care of yourselves, your loved ones, and your colleagues.