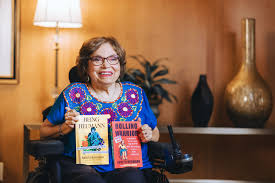 The Florida Association for Infant Mental Health (FAIMH) joins the disability community in mourning the loss of Judith "Judy" Heumann, who passed away on March 4, 2023. Known as the "Mother of the Disability Rights Movement," Judy changed the course of history for young children with disabilities and their caregivers.
In 1977 Judy led the "sit-in" protest about the long-delayed regulations to implement Section 504 of the Rehabilitation Act of 1973, the first federal civil rights protection for people with disabilities. For almost a month, nearly 200 people with disabilities occupied the regional headquarters in San Francisco of the federal agency responsible for issuing regulations that would guide the implementation of Section 504. The sit-in was one of the longest occupations of a federal building in United States history. It inspired grassroots protests by people with disabilities and their allies from a broad spectrum of backgrounds across the country. This sit in directly led to the issuance of regulations embodying the concepts of inclusion of people with disabilities and protection from discrimination. Judy's central role in the disability rights movement and in establishing 504 principles laid the groundwork for the Americans with Disabilities Act (ADA). Judy also assumed a major role in developing legislation that led to the Individuals with Disabilities Education Act (IDEA) and the UN Convention on the Rights of Persons with Disabilities (CRPD).
Judy was the first director of the DC Department on Disability Services in the District of Columbia. Judy not only fought for inclusion and against discrimination in this country. She also brought together the disability community nationally and internationally by giving hope to all who fight for equity and inclusion.
Judy fought tirelessly for the self-determination of all people, and the right to direct one's own life. She advocated for people with disabilities to be fully included and welcomed in all aspects of community life. Judy challenged people without disabilities to recognize and value the gifts that people who experience disabilities bring to their communities.
Today at FAIMH, we honor Judy and all that she brought to center the voices and needs of our disabled young children and their caregivers.
Learn more about Judy by watching the documentary, Crip Camp, reading her memoir, Being Heumann, listening to her podcast, The Heumann Perspective, or visiting her website.